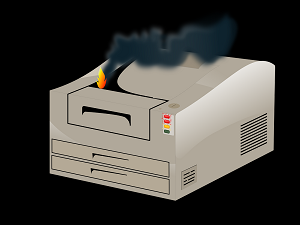 Microsoft has Patches For PrintNightmare Bug, so if you're one of the legions of Windows users, you may be aware that the OS currently has some printer issues. They're so severe that they are calling the bug "PrintNightmare," and note that this flaw affects all versions of Windows.
The good news is that Microsoft got to work just after reporting the issue and began issuing patches to fix it. The bad news is that it turned out to be a bit more complicated than anybody realized at the time. In fact, despite already having issued a few new patches, the problem persists for some users.
Microsoft is still at it and has recently released additional patches for more versions of Windows impacted by the bug. Unfortunately, these are Out of Band patches, so you may miss them if all you're doing is updating via the "Patch Tuesday" series of security updates.
The two issues at the root of the problem are tracking as CVE-2021-1675 and CVE-2021-34527. If you've got one or more users whom the bug is impacting, Microsoft is advising admins to disable the print spooler until a patch takes care of the issue.
In the company's latest update regarding the matter, they write:
"Microsoft identified a security issue that affects all versions of Windows and have expedited a resolution for supported versions of Windows that will automatically be applied to most devices."
Microsoft has Patches for PrintNightmare Bug that should solve Windows 10 1607 (Enterprise), Windows Server 2016, and Windows Server 2012.
With the application of these patches, non-admin users will restrict installing signed print drivers to a print server, but admins will install both signed and unsigned drivers. Admins also can configure the "RestrictDriverInstallationToAdministrators" such that nonadmins cannot even install signed drivers if they wish.
Unfortunately, a security researcher named Will Dormann reported via Twitter that he had found a way to bypass the new restrictions the new patches put in place. So this may not be the end of the issue. It is, nonetheless, a big step forward and a clear sign that the PrintNightmare will soon be ending.